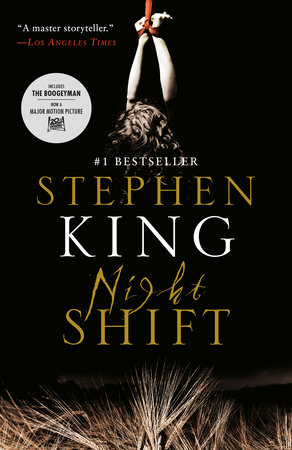 We have arrived to the first of Stephen King's short story collections, Night Shift. This collection was published shortly after The Shining in 1978. Some of the stories had appeared previously in magazines like Cosmopolitan, Gallery, and even Penthouse. Not to doubt the immense talent of Stephen King, but I don't think many Penthouse readers were purchasing the magazine for spine-tingling tales. Maybe I'm wrong.
Some of King's best short stories can be found in this collection. Two of my personal favourites expand upon the universe of one of my all-time favourite King novels, 'Salem's Lot. The very first story in the collection is, in fact, "Jerusalem's Lot", a look at the history of the town and where the evil within it originated. It is a period piece,  set in 1850, and is told through a series of letters from a new resident of The Lot to one of his friends. As the correspondence moves along, the letters get more intense and frightening as the terrible secrets of Jerusalem's Lot are revealed. In the other 'Salem's Lot inspired entry, "One For The Road", King tells the story from the perspective of Falmouth, Maine resident Booth, two years after the events of 'Salem's Lot. Booth and his bar-owning friend Tookey are confronted by Lumley, who begs them to help him find his wife and child. Booth and Tookey are horrified to discover that they have gone missing on the outskirts of Jerusalem's Lot. Let's just say good vibes do not ensue.
Other standouts in this collection are "Night Surf", a story of a group of young people who have apparently survived the Captain Trips pandemic, the basis of King's epic The Stand. "The Boogeyman" is about a man accused of killing his children one by one while he tries to convince a psychiatrist it was the work of the titular Boogeyman. "Gray Matter" is a straightforward, simple story regarding a fausty beer that turns a man into a gelatinous monster. And let's not forget "Sometimes They Come Back", about a teacher haunted by his brother's greaser murderers…decades after the murder was committed.
While all of these straight up horror offerings are expected, it's important to remember that King doesn't ever offer up schlock. His stories are about the every day people who deal with the horrors of every day life. Sometimes King will add a killer car, dog, or clown to spice up the proceedings, sure. Sometimes, however, he allows the all-too-human characters tell their own stories to haunting effect. One of the best examples is "The Last Rung on the Ladder", a story about Larry, recounting the time when, as children, he saved the life of his sister Kitty by piling up hay underneath her to fall on as she dangled precariously from a ladder in the barn they were playing in. I won't spoil the ending for those who haven't read it but it is a stinging, heartbreaking tale of siblings and the guilt inherent in the drifting apart of family.
Another heartwrenching tale is "The Woman in the Room" about a man grappling with whether or not he should assist his elderly mother in taking her life as she suffers with cancer. If ever you forget that King is so very much more than a genre (read: horror) writer, please return to stories such as these and experience the one-of-a-kind writing talent Stephen King truly is. Check these stories out. There's something in this collection for everyone.