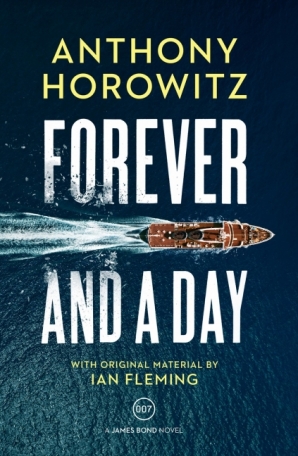 A spy is dead. A legend is born. This is how it all began. The explosive prequel to Casino Royale, from bestselling author Anthony Horowitz.
Forever and a Day is the story of the birth of a legend, in the brutal underworld of the French Riviera, taking readers into the very beginning of James Bond's illustrious career and the formation of his identity.
***
M laid down his pipe and stared at it tetchily. "We have no choice. We're just going to bring forward this other chap you've been preparing. But you didn't tell me his name."
"'It's Bond, sir,'" the Chief of Staff replied. "James Bond."
The sea keeps its secrets. But not this time.
One body. Three bullets. 007 floats in the waters of Marseille, killed by an unknown hand.
It's time for a new agent to step up. Time for a new weapon in the war against organized crime.
It's time for James Bond to earn his license to kill.
************
In Forever And A Day, Anthony Horowitz returns to the world of  James Bond, made famous by it's creator Sir Ian Fleming. This time, Horowitz takes us all the way back to the beginning, when Bond first receives his 00 status and becomes the international spy we all know and love.
The original 007 is found floating in the water in Marseilles, killed by three gunshots to the chest. Bond is enlisted by M. to replace him, with Bond insisting he take the 007 designation in honour of his fallen comrade and friend. Bond must travel to the French Riviera where he will use his considerable skills and charm to find out exactly what is happening in the south of France and how he can stop it.
Those skills and that charm, however, are not in as ample a supply as they will be in the future. This is what makes Horowitz's origin story so intriguing and different from other Bond novels. Bond is raw here. He puts himself in dangerous situations that a little pre-planning would have helped him avoid. He is blunt and petulant with his love interest (of course there's a love interest, it's still Bond!) Madame Sixtine, a mysterious femme fatale who has information regarding the death of the original 007 as well as the plans of the local baddie, Jean-Paul Scipio.
Scipio is a classic Bond villain. Due to an injury sustained when he was nearly murdered as a young man, Scipio is morbidly obese. Horowitz relishes in describing exactly how big Scipio is and it works extremely well. While the reader might expect Scipio to use his considerable girth to subdue Bond, he prefers to play a more psychological game with our hero. The results are unsettling and make for riveting reading.
The Fleming Estate entrusted Anthony Horowitz with the Bond legacy when he was tasked to write Trigger Mortis, a novel set at a time when Bond's career as international spy was more established. That trust in Horowitz continued with this novel and it is safe to say that the right decision was made. Horowitz combines page-turning action with the tropes of a Bond novel that we have become familiar with, albeit with the new spin of it being Bond's first foray into this new world. This novel is highly recommended as an introduction to the Bond world as well as a welcome origin story for Bond veterans.
Special thanks to Ashley Posluns and everyone at Harper-Collins Canada for my ARC of this novel!!